Heute habe ich gesehen wie wichtig ein gutes Oszilloskop ist, deswegen möchte ich mir jetzt eins kaufen.

Today i had seen how important is a scope, so i decided to buy one.
Ich möchte mir das UT 2042 C von UNI-T kaufen.


I want to buy the UT 2042 from UNI-T.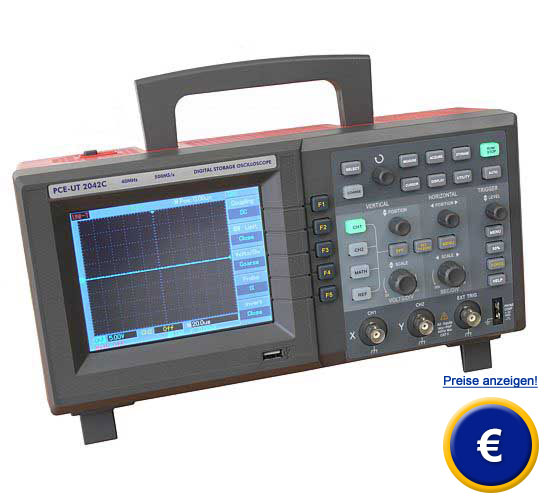 | | |
| --- | --- |
| Bandwidth | 40 MHz |
| Rise Time | ≤8.7 ns |
| Sample Range | 1GS/s |
| Vertical Sensitivity | 2mV ~ 5V/div |
| Record Length (Max) | 25k |
| Sample Rate | Real time 1GS/s, Equivalent: 50GS/s |
| Scan Time Base | 10ns ~ 50s/div |
| Trigger Type | Edge, Pulse, Video and Alternate |
| Automatic Waveform Measurements | 28 |
| Ports | Standard: USB Device, USB Host; PASS/FAIL, Optional: LAN |
| Mathematics | Add, Subtract, Multiply, Divide, Reverse and FFT |
| Applications | College Education, R&D, Electronic product assemble line, Industrial Control etc. |
| Display | 64k, Full colour LCD 320 x 240 |
But i am not sure, should i buy it? On the one hand i can use the oscilloscope in school (but i can't use it very often). On the other hand i want to have my own oscilloscope (But it's very expensive)